Life is not simple and so as the
locksmith
business and it's an amazing feeling to receive a great 5 star reviews both on google and on other media networks.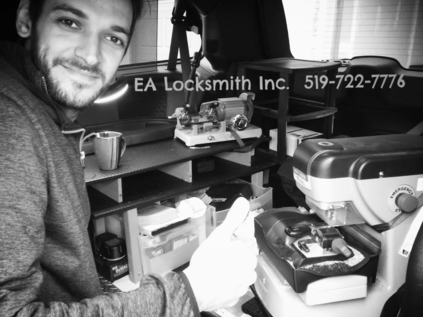 However being exposed to reviews these days cat also harm your business in a way, especially when dealing with fraud reviews. Currently we are conduction wide research on how to battle fraud reviews and we will share our outcome with you through our Medium Blog.
Part 1 - Introduction So far my road with reviews was good, hi my name is Eli and I am the owner of EA Locksmith Inc. Just In Case! Locksmith services.
Read More
I have received hundreds of reviews preforming different types of locksmith work, including automotive, commercial and residential locksmith services I provided over the years. Realizing that most people like when a service man with my character comes to help them because I always try to make sure everyone is happy and I like to meet new people, I realized that a while ago when working as a financial sales department manager in an international company. Where I was giving services over the phone to customers who never met me yet got to read my financial market reviews. I was never selling if people like what I have to offer they take it, only if they like you personally or what you have to offer. Sales pitches and prepared speeches always annoyed "the Eli" out of me.

Part 2 – The job site just so you understand, giving customer service as a locksmith technician is completely different than providing service over the phone. Simply because of these three factors that exist on "the job site " – Factor 1 – is the price (it might be the same and it won't fit every pocket) yet the customer is stuck and he won't be satisfied if he feels that he paid too much considering he is not aware of the market pricing for locksmith services. Factor 2 – Professionalism – is the ability to perform the job under great stress while keeping things cool, many customers put pressure on a locksmith in times and I have experienced it before. Best way to avoid customer pressure is ask politely for space or if you are experienced enough just block the noise in your head and focus on the task, simply focus on what you enjoy doing. Pop those locks! Blocking the noise – is your ability to shift your attention spam onto your task and block external noise from triggering your attention.

Part 3 – Personal thoughts Back in the day all this attention was not shifted towards me it was always shifted towards my employers who didn't really appreciate my character (at least that's how I felt – sorry). So I decided to use this power to continue contributing towards something more close to home, the way I service my customers is in many ways what I have seen over the course of the years. I have seen learning and progress and improvement, and don't get me wrong I learned a lot from my employers and Inside I always prefer to remember the good than those bad experiences that would hunt an average person because it's part of who you become and the decisions you make. I am worse than average lol but somehow I forgave them. Because when you forgive, you feel better, you realize how much you have learned and how you're past experiences can be used to shift your own thinking and help someone else that way. We wake up every day and we do the same thing, some for bread, some for money and some for fame or for greatness. There is no greatness without doing something positive that can actually positively impact someone's life for a better understanding or healthier thinking, for a better future. That's just my thoughts, because there is evil out there and when I got caught in situations where people just didn't care and so angry and sneaky towards me that it just baffles me. How could they be so cruel, I guess my suffering gives me hope but not everyone feels the same. If I can make one person feel better and be more positive about their approach to life, I can impact ten more and it goes on. If you think it's silly watch the movie - Life Is Beautiful
if you know about movies not everyone gets 8.6 so enjoy and it sure proves its point. Not my point I am just a crazy guy ignore me. Part 4 – Last words about this page I want to thank all the supporters of my services and all of the great reviews that I have received from thankful customers. If you have any issues with the service please let me know ASAP and see how we can further assist you. Posting a bad review without informing us that you're not satisfied is not helping us improve and simply hurts our business, unless we couldn't help you. Sorry



Read more on our blog: Medium and Tumblr

Great things in business are never done by one person. They're done by a team of people - Steve Jobs
Read more at: www.brainyquote.com