IP = Internet Protocol - Cameras.
Cameras which make remote information transfer a lot easier by compressing information without impact on the signal. Makes easier for high quality image transfer through the web for remote monitoring. Basically saying, if you want to monitor your business online it's best to shop for IP cameras. Cobtact Us Today!'


Typically CAT 6 wire

Hard wired IP cameras able to carry quality footage through hundreds of meters of cable without interuptions. Wireless IP cameras relly on good connectivity conditions often dynamic by nature. Basicvally saying change at any moment. Disruptions are common so it's 1:0 to good old hard wired camera.



Fixed out door IP cameras

Fixed outdoor IP cameras are used to monitor specific areas and lock on a spot while PTZ cameras are more flexible and able to be manually or automatically controlled from a remote location.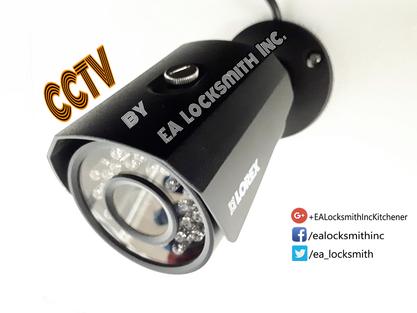 CCTV
🎥 24 Hour Video Surveliance 🎥


😕 When considering a CCTV system for your business or home it's best to consider a few options. There are all kinds of cameras to suite your needs. From regular static cameras to automatically controlled high definition cameras with remote control abilities and infra-red lenses. Today's technology and ease of access to CCTV systems made our job a lot easier in providing a great system right to your door. Makes it also easier for you to purchase it yourself and call us for the installation and guidance of CCTV products.



📷


🎮 Remote connection is very important; many great CCTV systems come with motion detector cameras which save recording space and air time. Especially when transforming this information through an ip cable network, this network compresses the content without harming it so if streaming from your mobile is your way of keeping your business/home secure we can definitely help with that!
🤗
EA Locksmith Inc.
E-mail: Info@ealocksmith.ca


EA Locksmith Inc. - All in One Locksmith Service In Kitchener, Waterloo, Cambridge and Guelph areas!